VIDEO: Wrapping up the fifth Ashes Test at the SCG
Date: January 5, 2014 / Posted by Glenn Mitchell
Australia continued on its merry way at the SCG with a 281-run win.
In the process it recorded just the third 5-0 sweep in Ashes history.
Thought of the day
"Problems are not stop signs, they are guidelines"

- Robert H Schuller
Archives
Latest Tweets
This is the response from ex #StKevins student Paris Street to the outrageous comments made by Andrew Bolt & Gerard Henderson on @SkyNewsAust on Tuesday night in response to the @4corners story ... as he asks please distribute it. It deserves it to be read.
Twitter feed video.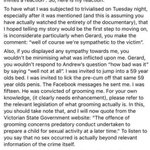 WATCH THIS if you are a parent or educator ... to hear such words from the mouth of a nine-year-old is truly heartbreaking ... we have young children taking their lives in this country ... we need to act to prevent it.