VIDEO: Wrapping the third Ashes Test at the WACA Ground
Date: December 17, 2013 / Posted by Glenn Mitchell
Australia's 150-run win at Perth saw Michael Clarke's team regain The Ashes.
Thought of the day
"You become what you think about all day long"

- Ralph Waldo Emerson
Archives
Latest Tweets
This is the response from ex #StKevins student Paris Street to the outrageous comments made by Andrew Bolt & Gerard Henderson on @SkyNewsAust on Tuesday night in response to the @4corners story ... as he asks please distribute it. It deserves it to be read.
Twitter feed video.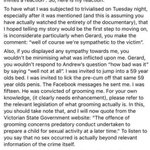 WATCH THIS if you are a parent or educator ... to hear such words from the mouth of a nine-year-old is truly heartbreaking ... we have young children taking their lives in this country ... we need to act to prevent it.
Suicide and domestic violence are two scourges on our society ... it is incumbent on all of us to try and reduce the prevalence of both.